TopHand Services, LLC personnel has over 30 years of experience in supplying detailed parts made to exact specification for the US Industry. Companies can rely on TopHand to supply WaterJet cut parts from virtually any material in any 2D shape quickly and of the highest quality.

Waterjet technology opens the door to product innovation and more cost-effective production. The CNC WaterJet is the most precise, productive and versatile machine in the industry. Discover how TopHand can offer flexibility and capability unlike any other machine shop.
Need a single part FAST? Send us a detailed drawing in DFX format and we can turn a quote that day. Don't have a drawing but can describe the part/idea on a "napkin"? Send us what you have and we can draft it for your proof and provide a quote and follow up with a cut part to your satisfaction. We can ship anywhere in the US next day
Need multiple precision production parts? We love running just-in-time with our quick no-tool setup. With MetaCam optimized nesting of parts material waste is minimized. You can supply the material or we can and we ship anywhere in the US.
Need a Quote?
See our contacts page and supply us with details like material, thickness, dimensions and tolerances. We will not only provide an estimate fast but can work with you to optimize your design for your application and lowest cost.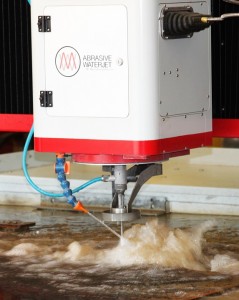 "We can cut virtually anything including cost without cutting quality".